Welcome

Breakpoint 2005 - Aliens ate my demomaker.
Welcome to Breakpoint 2005, earths biggest party solely dedicated to computer related arts and the people around them - the demoscene. Dive into a galaxy full of creativity, with our broad range of competitions, events and seminars about music, code, graphics created by a world-wide community of young computer enthusiasts.
During Easter you again got the chance to make new friends from all over the world, improve your knowledge and impress the crowd with your skills. Up to 1000 visitors from more than 30 nations are expected to gather in the beautiful small town of Bingen am Rhein from 25th to 28th March 2005.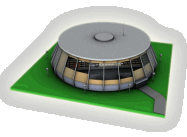 Breakpoint 2005 is featuring a new party location, a huge alien UFO from outer space. This new hall will fix all issues experienced with the previous one, and will enable lots of great new features for our party. Read more about it inside the About the party section.
Also, as in previous years, the scene.org Awards will again be hosted at Breakpoint. The scene.org team once again will be awarding the best demos and demo artists, this time from year 2004.
If you don't feel like missing the party event of the year, please register here. For your discussing needs, go visit the forum or join the IRCNET channel #breakpoint. For all your inquiries to the Breakpoint organizing team, please use our hotline mail address:
News